...I get a new office!!!
I'm so excited to have a new
craft room
office as I like to call it. Johnny took Hannah's old room and turned it into a room just for me. It's awesome!! He put up shelves and then added a cool counter top desk across the entire wall.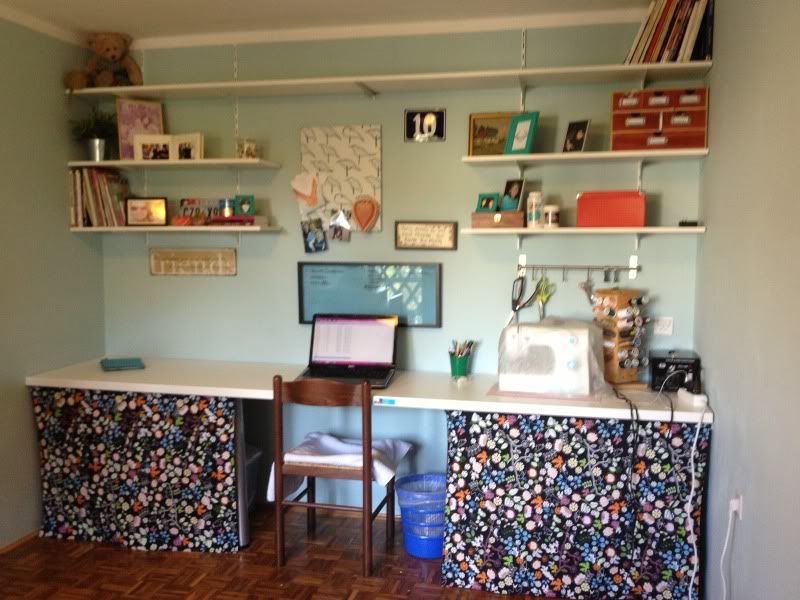 I added a small curtain on either side to hide some of the
unfinished projects
storage. I'm seriously not finished decorating, I still need to add curtains, and some decor to the shelves but for now they're functioning pretty well. I guess I need to take a trip to IKEA and buy storage boxes and a white board. I thought I would get crafty and use an old photo frame with a solid piece of fabric behind the glass but alas, the glare from the window is too much and I'm in search for a white board again. Now I'll have to go to IKEA, bummer. :0)
Oh yea and see that sewing machine there on the counter, well I broke it yesterday. No, really I did. I am making a new clown costume for Hannah and it's gonna be so cute. Anyhow, I'm stitching away and I hit a pin and completely mess up the timing on my machine. Hey I even looked online and watched a youtube video to try to fix it, no luck. So today the machine is at a friends house and I'm praying it'll be well enough to come home tomorrow.
BTW, there's the fabric for the clown costume, it's gonna be rainbow-licious if I ever get my machine back. Oh the waiting....it's killing me. Hey I have to be in the mood to sew and when the wave comes along I have to ride it before it's gone again. I'm ready to sew now I just don't have a machine.
Anyhow, I'm pretty excited about my new office and I guess there is one thing good about children going to college, okay there's a few but having an extra room is really one of the coolest.