We moved into a new house a few months ago and I was all excited to start putting curtains up and setting up house till I realized that the big kitchen window is almost a whopping 3 meters high.
This is what the dining room looked like when the landlord lived here.
Btw, check out the paint choices, green, brown, tan and blue, to each his own!
What? Who makes a window so big? Anyhow, I started shopping for curtains for that window only to discover that they don't sell 3 meter long curtains here. So off to Ikea we went. I found some white sheer fabric for 2 bucks a yard and purchased enough to cover that monstrous window. We headed home and then I realized that I have always failed when cutting such large pieces of sheer fabric. The stuff is the hardest stuff to work with and it such large dimensions it was sure to be a booger!
I searched the net and read all the tips I could find about working with sheer fabrics and off I went. Amazingly, I actually figured out how to work with the fabric and not lose my testimony through the experience. So here are some tips that worked for me.
Tip #1 Take a twin fitted sheet and cover your work space, ie. my kitchen table. I used a twin sized fleece sheet and the fuzziness :0) really helped the sheer fabric not to slip and slide all over town. What's cool is that my kitchen table happens to be the size of a twin bed. Go figure!
Tip #2 Use chairs to support and cold your lengths of fabric. This was the fabric doesn't have to be on the floor and it's not constantly pulling while you're cutting.
Also you can put a towel over the chair back to keep the fabric from sliding down. This makes it much easier to keep the fabric stationary when cutting.
I didn't actually take photos to go with my other tips so you'll just have to use your imagination.
Tip #3 Use a yard stick of even a strait edge of any kind to lightly mark your cutting edge. Line up the folder edge of your fabric with the edge of the table to make sure your fabric is strait when marking.
Tip #4 Double check! Make sure you're checking your measurements as you go 'cause cutting one wrong could throw off your whole project if you only have just enough yards to get the job done.
Tip #5 Pin! Pin! Pin! I know you experienced gals can sew a sows ear into a silk purse without even pinning anything but for the rest of us normal gals, PIN! Sheer fabric slips everywhere and it's almost impossible to keep it still without pinning.
Tip #6 Press! After pinning I pressed all my seams. Not only did it give me a crisp edge but it also allowed me to take another look-see at my measurements.
Tip #7 Make sure you have a new sharp needle in your machine. Some folks say to use a needle made for this sort of fabric but my normal needle did fine.
Tip #8 Take your time. Remember slew and steady wins the race 'cause no one wants to get ol' seam ripper out, now do we. Take your time.
So there ya go. These are the few hints that actually helped me not to throw the whole bunch in the trash. I hate all the lines of the window and the brown color but I think the sheers do well to diffuse it a bit. Still a work in progress but it's coming along.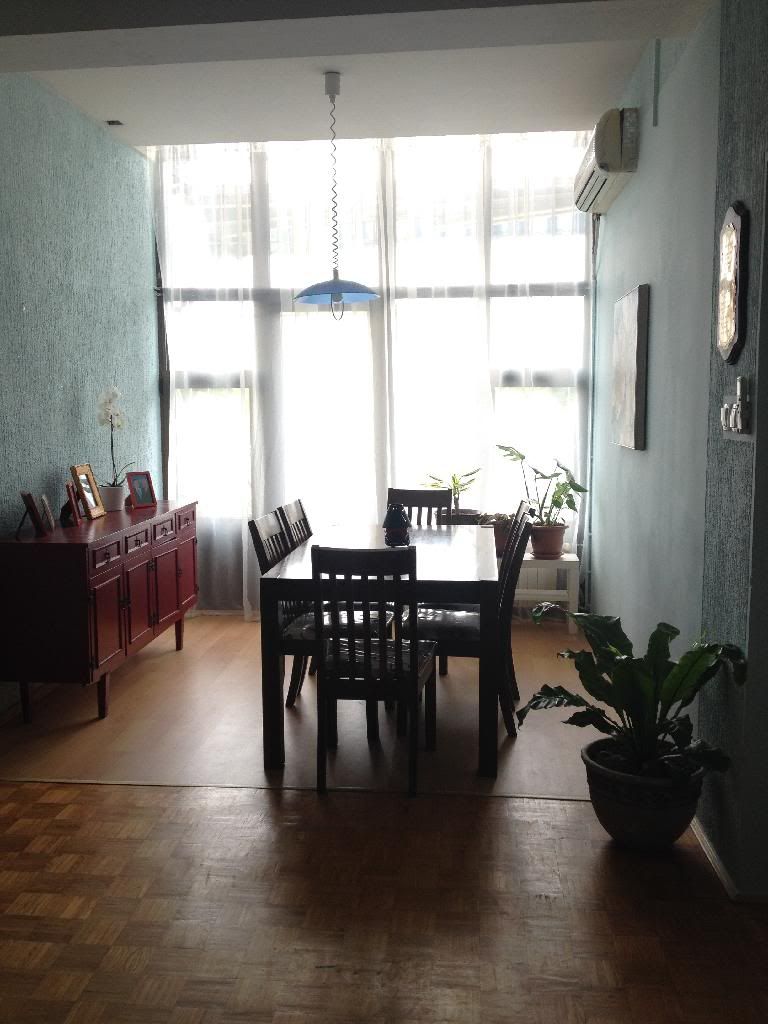 Oh btw, notice how empty the wall above the red buffet is, well... I used a Pinterest hint about using hot glue and safety pins to attach decorative plates to the wall and so I jumped on board. Figured that at least I could say I used one of the tuts I found on Pinterest. *wink* Anyhow, we're having dinner at that table with a young family in our church when we hear a terrible crash. We turn around to see that one of the plates had fallen and shattered all in the dish of fajita chicken. Are you kidding me? So I reverted to serving beef fajitas. Luckily they weren't in the vicinity when the next plate fell and shattered. So, thanks a lot Pinterest, you ruined my fajitas! I'm gonna try duct tape next time!
Anyhoo, happy sewing!!!